Duration: 3 min read
Often when we transition from the military our focus is on finding a job and not thinking any more than that. I found a job but something was missing. I couldn't for a while figure out what it was. Stupid as it sounds I realised I hadn't decided what do I want to do when I grow up?
What I mean is I have no restrictions on me anymore so what does the new journey look like? What is my purpose? What was my passion? What am I good at?
To find my missing pieces of the puzzle. I had to get out of my comfort zone. I tried Meetups/Eventbrite events, Googling, talking to old mates, and professional development workshops. The puzzle pieces were all there BUT I was still trying to find out where they go.
One of the many professional development workshops I attended mentioned the Ikigai model which means 'a reason to get up in the morning'. A reason to enjoy life. According to Thomas Oppong, your ikigai lies at the centre of the following questions.
What you love (your passion)
What the world needs (your mission)
What you are good at (your vocation)
What you can get paid for (your profession)
If you are lacking in one area, your puzzle is not complete and you are missing out on your life's potential.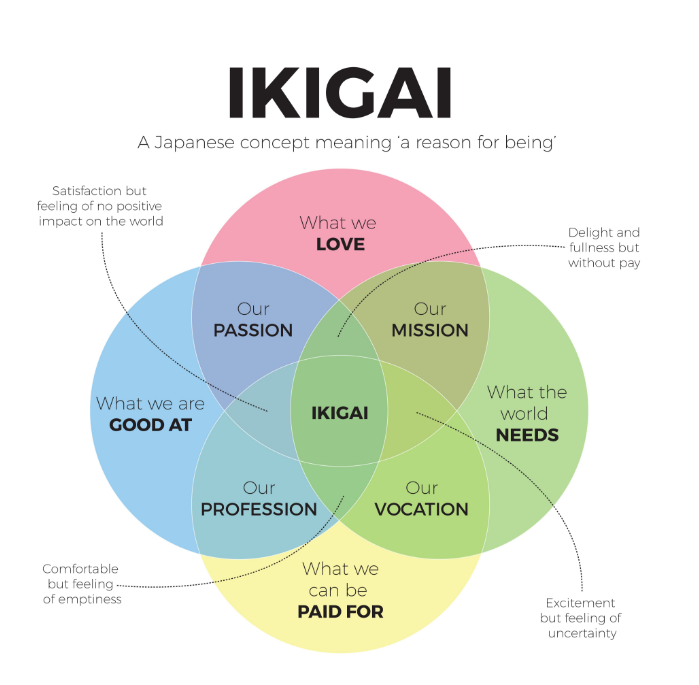 Diagram 1 Ikigai Model
The Ikigai model has provided me with something to work with. I asked friends and family to help with these questions because I am good at being my own critic, but not so good at seeing all the good I could do. After getting everyone's input and developing my own Ikigai model it has helped with getting some of the puzzle pieces in their spot and some direction to work through understanding my new self and the new world I am exposed to.
My journey continues however, I feel more comfortable in understanding myself and I have been able to identify, What I love (passion), and What the world needs (my mission) which is why helping veterans and those people who are under-utilised have helped me understand the reason for getting up in the morning.
I still have a long way to go and will continue to try and answer these questions throughout my career. My journey has not finished yet and I still don't know what I want to be when I 'grow up' but every day I wake up knowing I am one step closer.
References
Oppong. (2018, Jan 11). Ikigai: The Japanese Secret to a Long and Happy Life Might Just Help You Live a More Fulfilling Life [Blog post]. Retrieved from https://medium.com/thrive-global/ikigai-the-japanese-secret-to-a-long-and-happy-life-might-just-help-you-live-a-more-fulfilling-9871d01992b7
Unknown. (2018, Mar 30). How Ikigai can be applied to early stage companies [Blog post]. Retrieved from https://medium.com/@WeAreHowDoI/how-ikigai-can-be-applied-to-early-stage-companies-bce2c5d92bfc